From The Telegraph – Alton, IL – December 24, 2010
Family enjoys 'miracle' of Christmas
2010-12-24 15:00:26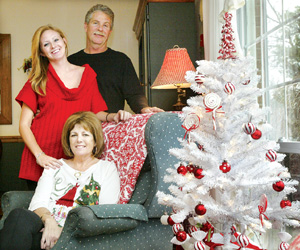 WOOD RIVER – The Dunnagan family in Wood River today will celebrate what it considers "a miracle" and its most special Christmas Day ever.
Cathy Dunnagan is a survivor of cholangiocarcinoma, a bile duct cancer that has a 99 percent fatality rate. She also is the survivor of two liver transplants, which means she is only alive because two people donated their livers after tragedies.
In the beginning, Dunnagan's only symptom was that she was "itchy." She was enjoying her summer until July 31, 2008, she was told she had only six to eight months to live without a liver transplant. She was 52 years old when her odyssey began.
"What are the chances that one of the two only places to have a clinical trial for my cancer was at Barnes in St. Louis?" she asked. "I am God's miracle and the face of hope with cancer. My story shows how important it is to be a donor, how lucky we are to have Barnes in our back yard, and hope."
An area doctor recommended that she see a dermatologist, and she then was sent to see a specialist in St. Louis. After a series of tests, it was discovered she had a rare form of cholangiocarcinoma, a cancer of the bile ducts that drain bile from the liver into the small intestine. Symptoms include abnormal liver function tests, abdominal pain, jaundice, weight loss and, sometimes, generalized itching.
Dr. William Chapman of Barnes figured out the proper treatment for Cathy and realized that she would have to be involved in a trial to qualify for a liver transplant.
One question she immediately asked the doctor was, "Will I see my daughter graduate from college?" He looked back at her and said emphatically, "Yes."
Jeff Dunnagan, her husband, said when his wife first was diagnosed with the cancer, it felt like someone had hit him in the stomach. He was in disbelief at the turn of events.
Cathy had two calls about liver transplants in February and March 2009, but they didn't happen. Then, on Memorial Day weekend, May 24, 2009, she finally underwent her transplant.
On July 4, 2009, Cathy woke up vomiting blood, and her doctors put her in the intensive care unit at a St. Louis hospital. Her hepatic artery had ruptured, and she was losing blood.
"The medical team had to clamp the artery off to the liver, and I didn't have a liver for 14 hours," she said. "Without a liver, you have about 36 hours to live. I remember saying the 'Our Father,' and Jeff was just crying. I had no idea how awful it was."
Within 14 hours this time, a liver was found, and the transplant surgery ensued quickly thereafter on the Fourth of July weekend in 2009. Dr. Chapman, who performed the transplant, was the kindest, nicest man, Cathy said.
"Dr. Chapman is an honest-to-God hero," she said. "He is who you want your children to be like."
Cathy was in the hospital from July 4, 2009, to mid-September 2009, when she was released.
Jeff Dunnagan owns a lawn care business in the region and had to continue working, so Caitlin Dunnagan, Cathy and Jeff's daughter, stepped forward to offer her help.
Caitlin was supposed to study abroad for her international affairs degree in Germany in the fall of 2009 and had it all arranged, but she decided to stay at home with her mom.
"Everybody – my dad, aunts, et cetera – wanted me to go back to school, but I said, 'No, there is nobody else,'" Caitlin recalled. "It was hard backing out of the Germany program; I had planned that for a long time. I did pick up three online classes through Murray State University. I had five classes left to go to get my degree at that point."
Jeff and Caitlin worked together to care for Cathy, often rotating when she was home. Caitlin had to learn to clean and pack the drains in her mom's stomach, and she said that made her "nervous." She also had to help her in going to the bathroom, showering and an abundance of other daily tasks. Caitlin said she never regretted a minute of helping her mother and is glad she did what she did.
Caitlin went back to school after her mom was well and officially graduated in August 2010 at Murray State University in Kentucky. Caitlin beamed with pride when she looked out at her mom there the day she received her college diploma, which was Cathy's dream.
Jeff and Caitlin said they both view Cathy's recovery as a miracle and said this Christmas will be extraordinarily special to them as a family. Cathy has been out and about purchasing and wrapping Christmas gifts for her daughter, husband and others.
"I don't think Mom's experience is anything short of a miracle," Caitlin said. "We are so fortunate to be on this side of the story; many aren't that fortunate."
For Caitlin, just having her mom healthy and at home is more than enough for Christmas.
The Dunnagan family never has wavered from its faith in God and planned to attend midnight Mass on Christmas Eve at St. Mary's Catholic Church in Alton. The family believes their faith helped them persevere through the difficult times.
"I hope it keeps snowing," Caitlin said. "We will wake up (this) morning and do gifts. We could have just been together. Having Mom healthy and at home is the greatest gift we could get. We don't need anything else."
Cholangiocarcinoma
A cancerous (malignant) growth in one of the ducts that carries bile from the liver to the small intestine, also known as bile duct cancer.
Cancerous tumors of the bile ducts usually are slow-growing and do not spread (metastasize) quickly. However, many of these tumors are already advanced by the time they are found.
A cholangiocarcinoma may start anywhere along the bile ducts. These tumors block off the bile ducts.
They affect both men and women. Most patients are older than 65.
Cholangiocarcinoma is rare. It occurs in approximately 2 out of 100,000 people.
Symptoms: Chills, clay-colored stools, fever, itching, loss of appetite, pain in the upper right abdomen that may radiate to the back, weight loss, yellowing of the skin (jaundice).